Werbung - unbezahlt
Meinen Umzug dieses Jahr habe ich mal zum Anlass genommen, um Bestandsaufnahme zu machen: Esse und schminke ich nur vegan und bestenfalls auch nachhaltig, oder lebe und wohne ich auch so? Der Artikel wurde dabei so lang, dass ich ihn zweigeteilt habe. Alles zum Thema Garten und Pflanzen liest du hier. Und hier kommt der Überblick über das Thema Vegan und nachhaltig wohnen und leben:
---
Nachhaltige und vegane Möbel
Gebraucht kaufen: eBay, eBay Kleinanzeigen, Quoka & Co.
Natürlich hatte ich noch einige ältere Möbel aus meiner letzten Wohnung. Die werde ich nutzen, bis sie auseinanderfallen. Da sind z.B. einige ältere Kommoden und Schränke von IKEA. Und auch mein Esstisch aus Teak-Holz, der aber schon genauso alt ist wie ich. Ich hatte ihn vor vielen Jahren von meinen Eltern übernommen und schleife ihn regelmäßig ab. Und natürlich mein altes Kramfors Ledersofa von IKEA. Während ich mittlerweile alle Lederschuhe aufgetragen habe und alle Lederjacken und Taschen weggegeben habe, ist dies sozusagen ein Relikt aus grauer omnivorer Vorzeit. Eine Frage zwischendrin: Was habt ihr mit euren Ledersofas, Wolljacken, Ledermänteln usw. gemacht? Da meine neue Wohnung allerdings wesentlich größer als meine süße kleine alte ist, sollten ein paar weitere Möbel dazu kommen.
Nach langem hin und her bin ich zu dem Schluss gekommen, dass es zwar mittlerweile einige Hersteller von offiziell veganen und nachhaltigen Möbeln gibt, ich mir diese aber in größerer Zahl nicht leisten kann oder will. Richtig vegane Möbel gibt es z.B. bei Allnatura, Vegan4Living, PureNature oder Grüne Erde (wo die Möbel nicht explizit ausgezeichnet sind, fragt einfach nach, ob sie auch vegan sind).
Also habe ich mir ein Herz gefasst und mich bei eBay, eBay Kleinanzeigen, Quoka & Co. umgesehen. Da gebrauchte offziell vegane Möbel dort kaum zu bekommen sind, habe ich nach Möbelherstellern Ausschau gehalten, die einerseits sehr hochwertig und damit haltbar, andererseits möglichst zertifiziert produzieren. Dabei herausgekommen ist eine fast komplette Wohnzimmereinrichtung aus einer Serie ehemals richtig teurer Hülsta-Möbel (mehr zur Nachhaltigkeit und gesundheitlichen Bewertung von Hülsta Möbeln hier), die ich fast neuwertig für wenig Geld bei drei verschiedenen Verkäufern mit einem Transporter eingesammelt habe.
Gebrauchte Möbel kaufen war für mich als Hyghiene-Freak eine echte Herausforderung – nach exzessiver Grundreinigung konnte ich damit leben…
Vegane Betten von Allnatura
Eine Ausnahme habe ich allerdings beim Bett gemacht, das musste definitiv neu sein. Ein gebrauchtes Bett finde ich hygienisch einfach: BAH! Außerdem wollte ich unbedingt ein offiziell veganes und dabei möglichst metallfreies Bett aus BIO-zertifiziten Hölzer ohne Schadstoffe. Bei Allnatura habe ich dann mein Traumbett entdeckt. Das vegane Massivholzbett "Gracia" kommt schlicht, aber weiblich daher und hat mir auf Anhieb gefallen. Stand Januar 2021 kostet es 719 Euro auf 1,60 m x 2,00 m. Die Investition hat sich auf jeden Fall gelohnt, ich bin super zufrieden damit!
Metallfreie und vegane Boxspring und Massivholz-Betten gibt es auch bei Otto, z.B. dieses wunderschöne Bett:
Nachhaltige und vegane Wohnaccessoires
Vegan4Living
Für Wohndeko war Vegan4Living meine erste Anlaufstelle. Die Produkte im Vegan4Living-Shop sind nicht alle nachhaltig, hier liegt der Fokus einzig darauf, vegane Produkte anzubieten. Auf meine Frage, wie die Produkte ausgewählt werden, erhielt ich folgende Antwort:
Christiane Freiin von Kentzingen sucht die Produkte für unseren Shop. Sie selber ist seit 6 Jahren vegan. Vegan leben bedeutet für sie nicht nur bei der Ernährung auf tierische Produkte zu verzichten, sondern rundum einen veganen Lifestyle zu haben. Dementsprechend kommen für sie nur noch Möbel, Wohnaccessoire, Kleidung und Kosmetik ohne tierische Bestandteile in Frage. Gleichzeitig soll dennoch alles stylisch aussehen – und so entstand VEGAN4LIVING. Sie ist ständig auf der Suche nach coolen und stylischen neuen Produkten für uns und für sich selbst. Einige Produkte sind PETA Approved und bei den anderen wird hinterfragt und eine genaue Produktangabe erbeten. Erst wenn wir die schriftliche Bestätigung haben, das das Produkt keine tierischen Bestandteile hat und ohne Tierversuche hergestellt wurde, nehmen wir es auf.
Von Vegan4Living habe ich die schöne Tischleuchte "Vancouver", die mit LED-Birnen im Vintage-Look, die es mittlerweile in jedem Baumarkt gibt, richtig gut wirkt:
Und auch bei den Buchstützen "Hevonen" in Pferdegestalt konnte ich nicht wiederstehen. Ich bin doch so ein Pferdefan und vermisse das Reiten so sehr… Gibt es schönere Tiere?
Die Preisrange bei Vegan4Living geht von günstig bis zu Luxus. Auch wenn mir nicht immer ganz klar ist, was genau an diesem oder jenen Produkt nicht vegan sein könnte, stöbere ich gerne in diesem Shop. Er ist auch eine gute Anlaufstelle für alle, die einem Veganer ein Geschenk machen wollen. Das Sortiment umfasst Kleinmöbel (Beistelltische, Couchtische, Konsolentische, Sessel & Stühle, Hocker & Poufs) und Wohnaccessoires (Dekokissen, Sitzkissen, Decken & Plaids, Dekoartikel, Tischleuchten, Tischaccessoires, Vasen & Blumentöpfe, Kerzenständer & Windlichter) aber auch Kosmetik und Mode. Off-Topic-Tipp: Vegan4Living ist soweit ich weiß der erste Shop in Deutschland, der die veganen Heels von Cult of Coquette führt!
Hydrophil
Von Hydrophil habe ich meine Zahnputzbecher und Zahnbürsten. Kaufen kannst du Hydrophil z.B. bei Ecco Verde. Ausführlich getestet haben wir die Marke schon mal hier, daher beschränke ich mich an dieser Stelle auf ein Foto.
Ein stromsparender Ventilator: Der GreenFan von Balmuda
Da es auf dem Markt für Ventilatoren nichts explizit veganes oder nachhaltiges gibt, zumindest ist mir noch nichts bekannt, habe ich mich für den GreenFan von Balmuda entscheiden. Meine neue Wohnung ist durch große Fensterfonten nach Norden und Süden sehr viel wärmer als meine alte und eine Lösung musste her. Der Greenfan ahmt natürlichen Wind nach und verbraucht dabei nur ein Zehntel des Stroms herkömmlicher Ventilatoren. Ausführlich beschrieben habe ich in hier Kaufen kann man ihn z.B. auf Amazon
.
Vegane Tablet-Hülle von Matt & Nat
Wenn ich mich umschaue, entdecke ich immer mehr Kleinigkeiten, die vegan sind, z.B. diese Tablet-Hülle von Matt & Nat:
Natürliche Möbel und Wohndeko von Naturehome
Wenn du eher natürliche Wohndeko suchst, schau unbedingt mal bei NATUREHOME vorbei. Dort findest du eine Menge ökologische Kleinmöbel und Accessoires für Wohnen und Küche, Schlafen, Garten, Kinder und Sauberkeit, vieles davon ist vegan.
---
Nachhaltiges Licht
Sonnenglas®
Sonnenglas® ist eine Solarlampe, die während des Tages Energie speichert, die es dann nachts in Form von Licht wieder abgibt. Sie muss dafür tagsüber nur ein wenig Licht einfangen. Sobald du den Magnetbügel nacht unten drückst, beginnt die LED-leuchte zu strahlen. Dabei ist das Sonnenglas® ist ein echtes Fair-Trade Produkt aus Südafrika und wurde ursprünglich entwickelt, um Menschen in gebieten ohne Stromversorgung als vollwertige Lichtquelle zu dienen. Sonnenglas® hat bisher über 65 Vollzeit-Arbeitsplätze für zuvor arbeitslose Männer und Frauen aus Alexandra und Soweto geschaffen! Dein Sonnenglas® kannst du ganz nach deinen Wünschen dekorieren. Bei mir ist es aktuell maritim gestaltet:
Auf Instagram findest du zum Thema jede Menge Inspiration! Kaufen kannst du Sonnenglas direkt bei Sonnenglas.net oder z.B. auch bei Amazon
.
Waldleuchten aus natürlichem Holz
Matthias Albrecht bringt mit seinen Waldleuchten die Natur wieder in unsere vier Wände. Die Pendelleuchten sind in Handarbeit aus verschiedenen Holzarten wie z.B. Kirschholz, Weide, Birke, Lärche oder Eiche gestaltet.
Matthias verwendet dazu ausschließlich Holz aus heimischen Wäldern und nachhaltiger Waldbewirtschaftung (PEFC-Zertifizierung). Für die Wachsvorgänge benutzt er gesundheitlich unbedenkliches Carnaubawachs – das freut das Veganerherz! Die Leuchtmittel sind inklusive und die Farbe der Textilkabel und deren Kabellänge kann individuell gewählt werden. So kannst du dir eine Lampe genau so gestalten, dass sie perfekt in dein Zuhause passt.
Leider hatte ich bereits alle Lampen, bevor ich Waldleuchten entdeckt habe, sonst hätte mindestens eine bestimmt Einzug bei mir gefunden. Dafür kannst du nun eine gewinnen. [Fotos: waldleuchten.de]
WIJLD: Nachhaltige Designlampen
Bei WIJLD gibt es zwei Varianten für nachhaltiges Licht: Light in a box und Öko-Betonleuchten. Light in a Box Leuchten werden aus Karton, Textilkablen und LEDs nachhaltig in Deutschland gefertigt, die Öko-Betonleuchten werden mit Öko-Beton gefertigt. Ökobeton heißt, dass Hüttensand, ein Abfallprodukt der Stahlindustrie, dem Zement beigemischt wird. Das reduziert CO2 Emissionenund führt Baustoffrestmassen dem Kreislauf des Gesteins wieder zu.
---
Vegane Duftkerzen und Diffuser
Revivo Candela
Revivo Candela macht vegane Kerzen aus Sojawachs, die rückstandlos abbrennen. Die hübschen Gläser können danach noch für Upcycling Zwecke wiederbenutzt werden. Teilweise sind die Kerzen in Kooperationen entstanden, wie zB. diese hier:
Ein Teil der Erlöse dieser Kerzen wird an PETA Deutschland e.V. gespendet. Trotz aller Kritik an PETA dennoch eine schöne Sache finde ich :) Die Kerzen gibt es z.B. im Loveco Shop. Wer den Loveco Shop noch nicht kennt: Unbedingt reinschauen! Ihr findet hier haufenweise auschließlich vegane Mode verschiedenster Marken.
Parks London

Parks London gehörte zu den ersten offiziell veganen Kerzen, die ich gekauft habe, und mittlerweile habe ich ein ganzes Arsenal davon. Ich liebe sie, weil sie extrem lange halten, durch das Sojawachs rückstandlos abbrennen, nicht rußen und weil es eine Riesenauswahl natürlicher Düfte gibt. Bei vielen Duftrichtungen muss man die Kerze nicht einmal anzünden, damit sie Ihren Duft verströmt. Die Kerze oben auf dem Bild z.B. steht seit meinem Einzug im März in der Gästetoilette, wurde nie angezündet und beduftet immer noch den ganzen Raum. Damit relativiert sich auch der ziemlich hohe Anschaffungspreis von 30 Pfund für eine Duftkerze von 235 Gramm. Aber keine Sorge: Ich kaufe die Kerzen niemals zu diesem Preis! Bei Limango Brands4Friends, Westwing oder auch mal bei Flaconi gibt es immer wieder Aktionen, in den man die Kerzen schon ab 12 Euro bekommt. Einfach ab und zu mal reinschauen!
Tipp vom 14.08.2017: Auf Brands4Friends gibt es gerade bis zu 60% Rabatt auf Parks London!
Auch die veganen Diffuser von Parks London sind ihr Geld wert. Ich habe im März einen im Hausflur aufgestellt und man sieht noch überhaupt nicht, dass irgendetwas an Flüssigkeit verdunstet wäre. Die halten wirklich eeewig, kein Vergleich zu Billigprodukten!
Wax Lyrical
Auch Wax Lyrical Kerzen aus England sind offiziell vegan friendly, die Düfte sind allerdings nicht natürlich. Kaufen kannst du sie in Deutschland z.B. bei Flaconi, sie sind auch wesentlich günstiger als Parks London Kerzen. Auch hier gilt aber: Auf Aktionen bei Limango, Brands4Friends, Westwing & Co. achten, da gibt es sie oft noch billiger!
---
Nachhaltige und vegane Farben und Lacke
Ich bin kein Freund von wegwerfen und darum bgleiten mich manche Stücke schon 20 Jahre und mehr. So wie zwei langweilige IKEA Moppe Kommoden aus unbehandeltem Holz. Höchste Zeit, ihnen einen neuen Anstrich zu verpassen! Pinterest ist ja voll von IKEA Moppe Hacks Ideen, ich habe mich dann einfach für einen dreifarbigen Antrich entscheiden. Da die Kommoden in meiner unmittelbaren Nähe auf dem Schreibtisch stehen, mussten dafür natürliche und schadstofffreie Farben her. Solche findet man z.B. bei NATUREHOME. Selbst für mich als ungeübte Malerin waren die Farben leicht aufzutragen und haben überhaupt nicht gestunken. Und sie sind sogar für Kinderspielzeug geeignet!
Auch im Auro Shop gibt es unschädliche Farben, die teilweise vegan sind.
---
Nachhaltige Wandkunst
Erstmal die schlechte Nachricht an alle Veganer: Fotoabzüge sind nicht vegan, den es wird Gelatine verwendet, siehe z.B. die Erklärung bei Pixum. Wer dennoch nicht auf Fotos an der Wand verzichten will, sollte sich zumindest einen Anbieter ausuchen, der nachhaltig arbeitet.
Photocircle: Kunst mit sozialem Mehrwert
Bei Photocircle
kannst du gerahmte Poster, Acrylglasbilder, Alu-Dibond-Kaschierungen, Leinwandbilder, Fine Art Prints u.v.m. bestellen. Dabei verfolgt das Unternehmen einen ganz besonderen Ansatz: Sowohl Photocircle selbst wie auch der jeweilige Fotograf des Bildes verzichtet auf einen Teil des Erlöses und spendet diesen für humanitäre oder Entwicklungsprojekte in der Region, in der das jeweilige Bild entstanden ist. Bis zu 50% des Erlöses werden dabei gespendet, wieviel genau steht bei jedem Bild dabei. Photocircle ist deshalb aber nicht teurer als andere Anbieter, da das Unternehmen auf teure Marketingsmaßnahmen verzichtet. Du kannst auch eigene Fotos drucken lassen, dabei gehen 6% an soziale Projekte. Da es sich bei den Bildern von Photocircle nicht um Ausbelichtungen, sondern um Drucke handelt, wird keine Gelatine verarbeitet. Alles in allen eine runde Sache, Photocircle eben! Bei Photocircle habe ich darum auch mein Lieblingsfoto aus unserem Urlaub über den Wild Atlantic Way in Irland auf Acrylglas drucken lassen:
Wijld: Stylische und umweltfreundliche Design- und Kreativprodukte
Bei Wijld.com gibt es außer ganz tollen veganen Shirts aus Holz (unbedingt mal in den Shop schauen!) und den Lampen, die ich oben schon erwähnt habe, auch faire und nachhaltig produzierte Art-Prints zu bezahlbaren Preisen. Gedruckt wird in Deutschland und für die Rahmen werden ausschließlich nachhaltig zertifizierte Hölzer aus der EU verwendet. Ich habe mir diese kleinen Fischchen als Inspiration ausgesucht:
Mittlerweile stehen sie direkt neben meinem Bett und erinnern mich jeden Tag daran, dass es gut ist, anders als die breite Masse zu sein und auch mal in die andere Richtung zu schwimmen!
Vegane Reinigungsprodukte
Die Marken Frosch und Ecover kennt sicher jeder von uns mittlerweile. Beide produzieren nachhaltige, vegane und pflanzenbasierte Reinigungsprodukte und sind in jedem Drogeriemarkt zu bekommen. Auch die Reiniger der DM-Marke Denk Mit sind größtenteils vegan. Von vielen dieser Produkte bin ich überzeugt und nutze sie auch regelmäßig – dennoch sind sie mir teilweise noch nicht "natürlich" genug. Wenn ich es noch natürlicher haben will, bestelle ich vegane Reinigungsprodukte bei Najoba.
Naturehome
Eine ganz tolle Alternative habe ich bei NATUREHOME gefunden. Die Reiniger dort riechen so lecker und natürlich, dass man sie geradewegs trinken könnte! Hätte ich Kinder oder Haustiere, würde ich ausschließlich nur noch die Reiniger von NatureHome verwenden. Da sie etwas teurer als herkömmliche Reinigungsmittel sind, verwende ich sie aber nur an den Flächen, die direkt mit meiner Haut in Berührung kommen können, z.B. in der Dusche, der Toilette oder auf der Küchenarbeitsfläche. Vom Duft bin ich wirklich schwer begeistert, das ist pure Zitrone, Lavendel, Zitronengras oder Calendula… Wahnsinn! Auch die Verpackung finde ich schön, schlicht und natürlich. Die Wirkweise ist super, einzig beim Glasreiniger finde ich, dass er auf meinen großen Fensterfronten etwas schmiert, wenn man nicht lange poliert. Ich nutze ihn daher nur für kleinere innenliegende Glasflächen oder Spiegel, auf denen ich keine Chemie haben will.
Method
Wer Wert auf vegane, pflanzenbasierte Reinigungsmittel legt, die schön bunt in richtig stylischen Flaschen verpackt sind und dafür auch ein bisschen mehr zu zahlen bereit ist, wird bei Method fündig. Method gehört zur Ecover Gruppe. Wie auch Naturehome verspricht Method gesundheitlich unbedenkliche Reinigung für Erwachsene, Kinder und Haustiere, bei der du nicht die Luft anhalten oder aus dem Zimmer gehen musst, um nicht in giftigen Dämpfen zu ersticken. Alle Produkte sind "cradle to cradle"-zertifiziert, Materialien werden also in geschlossenen Kreisläufen verwendet und die Verpackung ist recycelt bzw. recycelbar. Kaufen kannst du die Marke aktuell z.B. bei Budni, DM, Kaiser's Tengelmann, Müller, Big Green Smile oder Amazon
.
---
Nachhaltig in der Küche
pandoo
Die pandoo® 100% Bambus Küchenrolle war für mich eine wirkliche Neuentdeckung. Was beinahe aussieht wie normales Küchenpapier, ist eine Rolle aus abreißbaren Bambusfaser-Tüchern. Ein Rolle kostet 9,99 Euro und besteht aus 20 Tüchern. Der Clou: Jedes dieser Tücher kann bis zu 100 Mal gewaschen werden.
Ich nutze die Tücher nun schon einige Wochen und kann nach einer Eingewöhnungszeit sagen, dass ich meinen Kleenex-Konsum stark minimiert konnte. Herkömmliches Küchenpapier nutze ich beinahe nur noch für Dreck, der mir so stark oder so eklig scheint, dass ich es nicht über mich bringe, sowas in die Waschmachine zu stecken. Alle anderen Tücher werden wie normale Wäsche gewaschen, getrocknet und in einem Leinensäckchen zur nächsten Verwendung gesammelt.
pandoo hat auch noch eine Reihe anderer toller Produkte. Die Bambus Lufterfrischer mit Aktivkohle eliminieren schlechte Gerüche und können überall hineingesteckt werden, wo es müffelt, z.B. in Schuhe oder ins Auto. Die Aktivkohle filtert unangenehme Gerüche, Bakterien, Allergene und Schadstoffe und absorbiert Feuchtigkeit. Bei mir steckt seit dem Einzug eines im Kühlschrank und hat ruck zuck den Käse-Mief des Vormieters gefressen.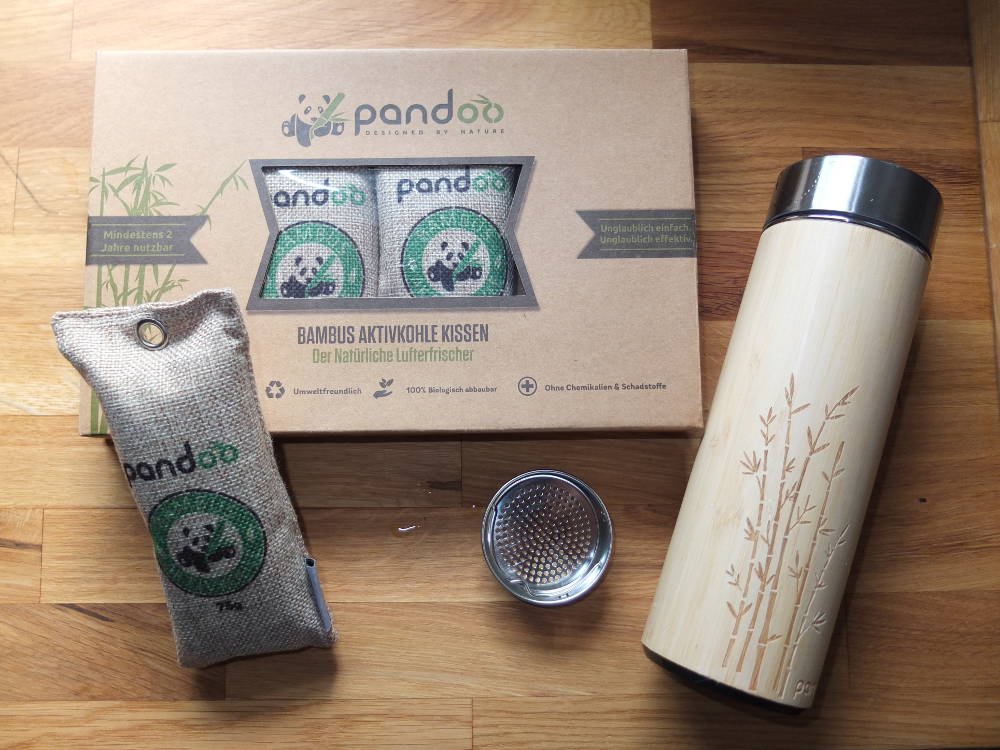 Die pandoo Bambus Thermoflasche ist eine bpa-freie, doppelwandige Thermoflasche mit Edelstahl-Teesieb. Ein kleines Schmuckstück, ich finde, die sieht wahnsinnig hübsch aus! Deshalb wandert sie auch nach Benutzung nie in den Schrank, sondern darf als Deko in der Küche stehen bleiben. Auslaufsicher ist sie natürlich auch und hält bis zu 12 Stunden warm oder kalt.
kauf dich grün
Im Onlineshop von kauf dich grün
findest du jede Menge Bio Produkte für den Haushalt, z.B. nachhaltiges Bio Einweggeschirr aus Palmblatt oder Zuckerrohr, Recycling-Servietten, Müllsäche u.v.m.
---
Nachhaltige Wohntextilien
David Fussenegger Wohndecken und Kissen
Die Wohndecken und Kissen von David Fussenegger aus Österreich waren mir schon länger ein Begriff – mir ist aber nie wirklich aufgefallen, dass es von dieser Marke auch einige explizit vegane, GOTS zertifizierte und sogar recycelte Produkte gibt. David Fussenegger macht da keinen großen Wind drum, wenn man aber genau hinschaut, findet man die nachhaltigen Produkte in einigen Shops, z.B. bei Amazon ECO-Linie
/ GOTS-Linie
, https://www.limango.de/invite/21496927, Tausendkind oder Buecher.de. Ich habe von David Fussenegger zwei Wohndecken und mag sie sehr. Das ist zum einen die eco Decke inkl. Beutel. Diese Wendedecke gibt es in schwarz-weiß oder gelb-weiß jeweils zum Wenden mit einer hellen und einer dunklen Seite. Zur Decke gehört ein passendes Säckchen, dass sie super praktisch auch zur Picknickdecke macht. Bei dieser Wohndecke in der Größe 140×200 cm kommt 85% Recycling-Baumwolle, 8% Viskose und 7% Polyacryl zu Einsatz.
Das Säckchen ist übrigens so süß, dass ich es auch anderweitig verwende!
Zum anderen habe ich die Jade Decke aus 100% GOTS zertifizierter Baumwolle in der Größe 150×200 cm. Diese Decke finde ich mit ihrem gelb-creme farbenen Ombre-Verlauf ganz wunderbar für den Sommer und mit der Nahnt so schön rustikal und natürlich!
Nachhaltige Bettwäsche von DAYME
Die wunderschöne Bettwäsche von DAYME aus Stockholm habe ich bei MONOQI gefunden, sie war dort im Flash Sale reduziert. DAYME stellt nachhaltige Bettwäsche aus Bio-Baumwolle oder Leinen her und färbt rein pflanzenbasiert. Entsprechend ist die Farbauswahl beschränkt, aber sehr natürlich und wie ich finde, wunderschön:
Ich habe mir die Bettwäsche aus Bio-Baumwolle in diesem zarten und wie ich finde überhaupt nicht kitschigem Rosé gegönnt:
DAYME ist meine erste Bettwäsche aus Bio-Baumwolle und ich muss sagen, man schläft irgendwie anders! Das Schlafklima ist besser, es fühlt sich natürlicher an und es lohnt sich meiner Meinung nach wirklich, das mal auszuprobieren! Auch die Details wie die Knöpfe und das Label gefallen mir richtig gut. Übrigens bügele ich meine Bettwäsche nie, nicht mal für Fotos ;)!
Ich habe die Bettwäsche mittlerweile 3 Mal gewaschen und kann keinen Farb- oder Qualitätsverlust feststellen.
Weitere vegane Bettwäsche, Matratzen, Decken und Kissen findest du z.B. auch bei PureNature, Avocadostore, Allnatura, Purnatour, Yumeko, Truestuff oder Beautiful nature.
Nachhaltige Handtücher
Sehr hübsche und hochwertige, nachhaltige Handtücher aus Bio-Bauwolle und ökologischem Leinen gibt es bei Grüne Erde:
Hier siehst du rechts ein Geschirrtuch von Grüne Erde, ein farblich passendes Handtuch hab ich bei Living Crafts gefunden.
Auch meinem Bad habe ich Badetücher von Grüne Erde gegönnt:
Noch mehr nachhaltige, biologische Badtextilien findest du z.B. bei PureNature, Hessnatur, NATUREHOME oder Allnatura.
Karawan Authentic
Meine Lieblingstücher für Balkon, Terrasse, Sauna, Urlaub u.v.m. sind die GOTS zertifizierten Bio Peshtamals von Karawan Authentic, z.B. bei derkleinebazar.de.
Ich habe sie schon länger, aber erst seit diesem Jahr scheinen Peshtamals so richtig in Mode gekommen zu sein. Man sieht sie jetzt wirklich überall und das ist kein Wunder: Peshtamals nehmen weniger Platz in der Waschmaschine weg und trocknen schneller. Sie wiegen fast nichts und sind damit super auch für Reisen.
---
Vegan und nachhaltig wohnen und leben: Was fällt dir dazu ein?
So… jetzt fällt mir erstmal nicht mehr ein. Ich hoffe ich habe dich in dem ein oder anderen Bereich inspirieren können. Wenn du noch gute Ideen zum Thema vegan und nachhaltig wohnen und leben hast, kommentiere doch bitte :)